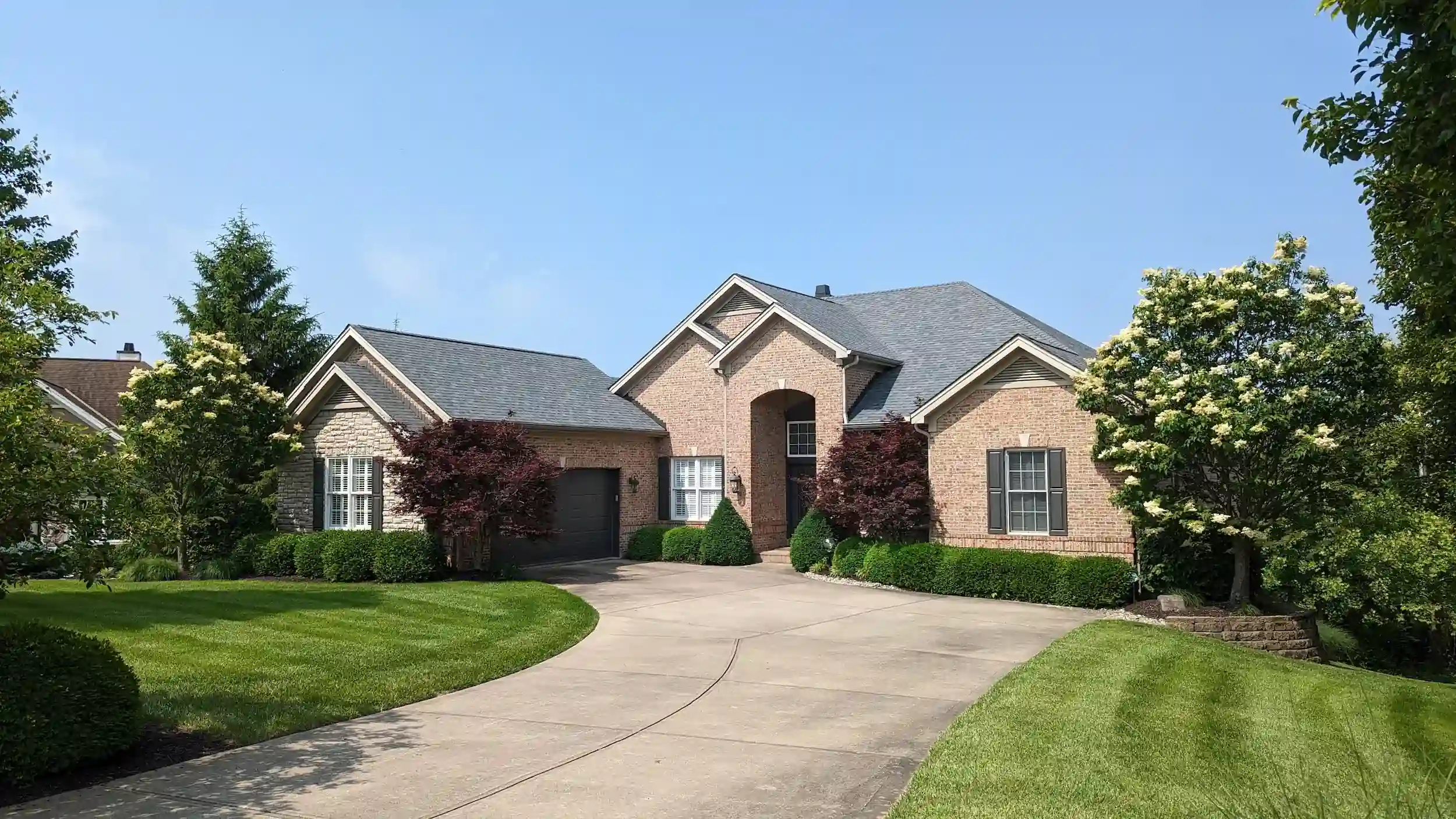 Family Owned &
Trusted for Over 35 Years
Get high quality roofing and gutter services from Kelly Roofing and Repair!
Don't let a leaky roof damage your home.
We understand that replacing your roof can be an overwhelming experience, so we strive to make the process as stress-free as possible. With our team of fully licensed and certified professionals, we provide a wide range of residential roofing services that guarantee quality and efficiency.
See why working with us is easy and stress free.
Choosing a roofer can be a daunting task
At Kelly Roofing & Repair, we understand that choosing a roofing contractor can be a daunting task. That's why we want to assure you that we are the right choice for your roofing needs. We take pride in providing our customers with high-quality workmanship and exceptional customer service.
35+ Years of Experience

Our years of experience have given us the skills and expertise to handle any roofing project, no matter how complex.

On-time Appointments

We understand that your time is valuable, which is why we always show up on time for appointments.

Quality of Materials

We only use high-quality materials from trusted suppliers to ensure that your roof is durable and long-lasting.

Licensed and Certified

We have the necessary qualifications and certifications to handle any roofing project, ensuring that you receive quality work.

Straightforward Pricing

We understand that pricing can be a significant concern for our customers, which is why we offer straightforward and easy-to-understand pricing.

Best Warranty

We stand behind our workmanship by offering up to a 25 year warranty. Our goal is to provide you with peace of mind knowing that your roofing investment is protected.
Experience Quality Roofing and Unbeatable Service with Us!
From roof repair and maintenance to full-scale replacements, we have the expertise and knowledge to handle your roofing project with ease. Our friendly and knowledgeable staff will work with you every step of the way to ensure the process is smooth and easy. Kelly Roofing makes certain the service we provide is organized, timely and well communicated. Trust us to provide you with a roofing experience that exceeds your expectations.
Roof Replacement

Enhance Your Home's Appearance and Protect It with a New Roof

As a homeowner, you want to ensure that your property is well-protected from the elements and looks great too. If you need a new roof, we offer high-quality roofing replacement services that will enhance the appearance of your home while providing lasting protection from the elements.

You can trust us to use the best materials and techniques to ensure a durable, leak-free roof that will add value to your home.

Learn More About Roof Replacement

Roof Repair

Ensure Your Home is Protected with Our Reliable Roof Repair Services

If your roof has been damaged by severe weather or other causes, you want to get it fixed as soon as possible to prevent further damage. We understand how important it is to have a reliable and safe roof over your head, and our roof repair services are designed to meet that need.

We'll diagnose the problem and provide a cost-effective solution to repair it, ensuring that your home is well-protected from the elements.

Learn More About Roof Repair

Gutter Installation

Protect Your Home's Foundation with Our Professional Gutter Installation Services

When it comes to protecting your home, gutters play a critical role in preventing water damage to your foundation. If you're looking for a professional gutter installation service, you've come to the right place.

We'll help you choose the right type of gutters for your home and ensure they're installed properly to prevent water damage. You can count on us to provide high-quality work that protects your home for years to come.

Learn More About Gutter Installation
Kelly Roofing & Repair is an Owens Corning Platinum Contractor
We understand that when it comes to roofing and gutter services, experience matters! Kelly Roofing and Repair is a Platinum Owens Corning Contractor, so you can trust us to deliver superior craftsmanship on every project.

Owens Corning Platinum Preferred Contractors have achieved the highest level of service in the industry and have been selected to be in the Top Tier of the Preferred Program. They are hand-selected based upon the most stringent of qualifications and can offer exclusive perks that are only found at the Platinum level.
Platinum contractors represent less than 1% of all roofing contractors

In business for at least three years

No adverse legal actions, liens, judgments, etc. against the company during the past five years

A clear credit record with no account more than 90 days past due

All required state and local licenses procured and current

General liability insurance is required

Good professional reputation and customer references

No bankruptcies in the past seven years
Real Reviews, Real Results, Real Smiles
Our customers love us because we deliver on our promise of quality products and services. Hear what they have to say about us.
I've used them several time to repair shingles blown off in high winds and replace flashing.

Kelly Roofing has been my 'go to' vendor for roofing issues for over 20yrs. Used them to replace the roof on my mother's house. Was great. Brought a huge team and did a tear-off and reroof in 1/2 a day. Cleaned up everything also. I've used them several time to repair shingles blown off in high winds and replace flashing. Always prompt and fixed right the first time. There may be less expensive roofers out there but if you want it fixed right call Kelly Roofing.

Very high-quality roofing contractor!

I have used Kelly twice and also recommended them to family/friends. The responsiveness is always top notch and the work is 2nd to none. Very high-quality roofing contractor!

I've always admired is a service company with clean trucks!

I've had several roofs installed over the years and this experience was the best service I've ever had! Nick and his crew were prompt, courteous and VERY professional. Installation was not rushed, every day ended with a thorough cleanup. One thing I've always admired is a service company with clean trucks! I highly recommend Kelly for your roofing, gutter needs!
Experience the Kelly Roofing and Repair Difference
Trust the professionals that have been in business for over 35 years!
Kelly Roofing and Repair is a family owned business with over 35 years of experience in providing quality roof and gutter services. We pride ourselves in providing our customers a professional service that will make your home look great and function well.
Learn About Roof Repair & Roof Replacement
We are your go-to experts in roofing, offering unparalleled service to help you make the right decisions for your home. Whether it's a routine inspection, quick repairs, or completely replacing your roof, we'll get it done quickly and accurately.