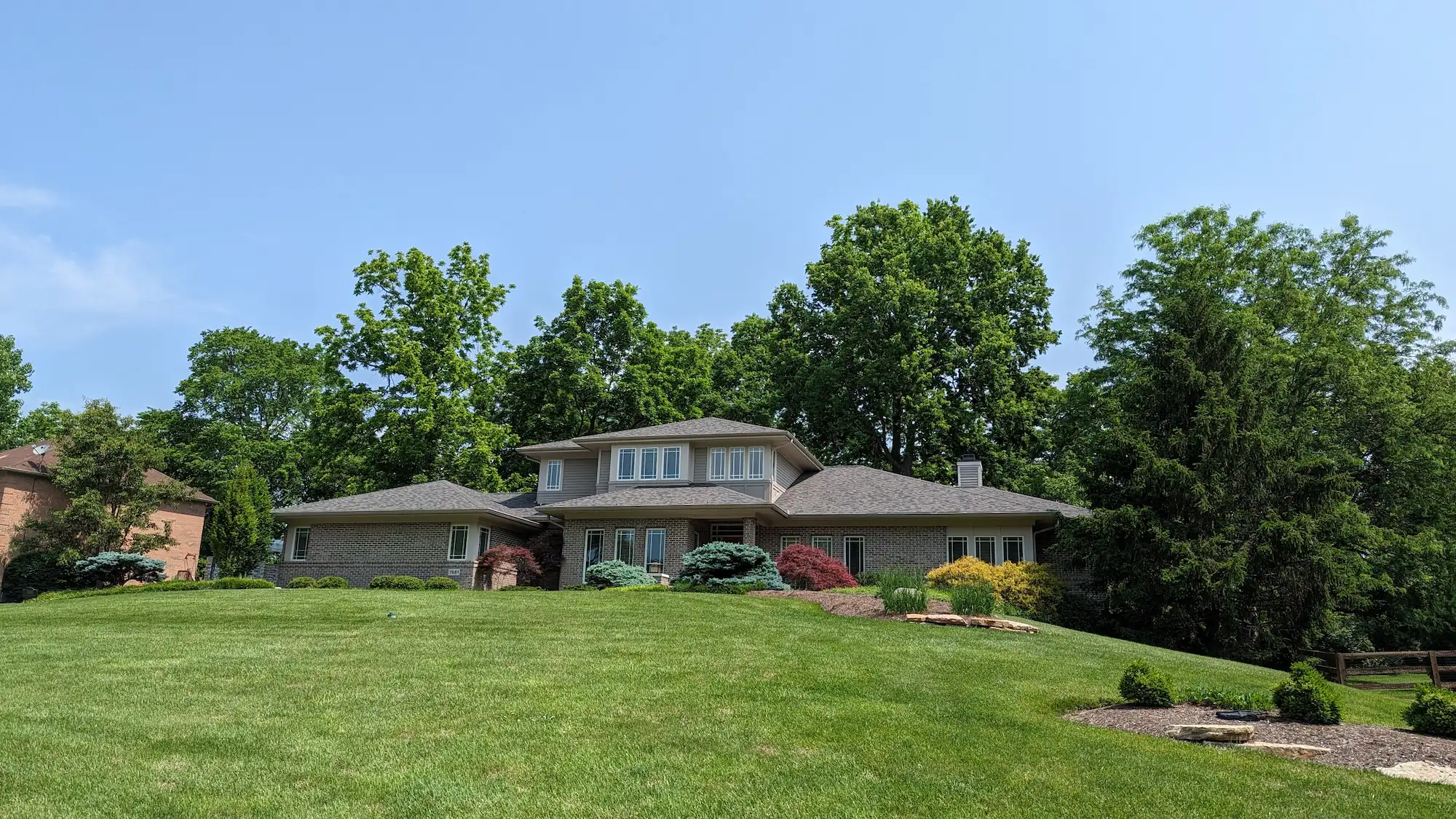 Professional Gutter Installation
Protect your home with new gutters.

When it comes to protecting your home from water damage, installing high-quality gutters is one of the best investments you can make. Here are some of the advantages of professional gutter installation:
Protection from Water Damage: Properly installed gutters will channel rainwater away from your home, preventing damage to your foundation, landscaping, and exterior.
Improved Home Value: Investing in gutters can improve the appearance and functionality of your home, making it more attractive to potential buyers if you decide to sell.
Lower Maintenance Costs: With properly installed gutters, you can reduce the need for costly repairs and maintenance on your roof and exterior.
Peace of Mind: With a professional gutter installation, you can rest easy knowing that your home is protected from the elements and that you've made a smart investment in its future.
At Kelly Roofing & Repair, we offer high-quality gutter installation services that will provide all of these benefits and more. Our team of experts will work with you to choose the best type of gutters for your home and install them with precision and care. Contact us today to learn more about how professional gutter installation can benefit your home.
Advantages Of Seemless Gutters
Made from the best quality aluminum coil, Seamless Gutters are flexible, durable and designed to protect your home for years to come.
Seamless and Continuous

Many colors available

Advanced Hanging System

Exceptionally Strong

Revolutionary Two-Coat Finish

Uniquely designed to your home
Tired having to clean out your gutters every year?
Homeowners choose Leaf Relief gutter protection for one simple reason — it works. The patented design keeps leaves and other debris out of gutters while allowing water to drain freely. All it takes is a normal breeze to lift debris away.
Trust the professionals that have been in business for over 35 years!
Get the superior service & quality you deserve.
At Kelly Roofing & Repair, we understand that choosing a roofing contractor can be a daunting task. That's why we want to assure you that we are the right choice for your roofing needs. We take pride in providing our customers with high-quality workmanship and exceptional customer service.
35+ Years of Experience

Our years of experience have given us the skills and expertise to handle any roofing project, no matter how complex.

On-time Appointments

We understand that your time is valuable, which is why we always show up on time for appointments.

Quality of Materials

We only use high-quality materials from trusted suppliers to ensure that your roof is durable and long-lasting.

Licensed and Certified

We have the necessary qualifications and certifications to handle any roofing project, ensuring that you receive quality work.

Straightforward Pricing

We understand that pricing can be a significant concern for our customers, which is why we offer straightforward and easy-to-understand pricing.

Best Warranty

We stand behind our workmanship and the materials we use. Our goal is to provide you with peace of mind knowing that your roofing investment is protected.
Initial Consultation

We will assess the current state of your gutters and provide recommendations for repair or replacement. During this consultation, we will also ensure that the gutters are properly sized from the size of your roof. We will provide you will all of the information you need to make an informed decision.

Preparation

Once the project is approved, we will begin preparing the site for installation. This includes removing the old gutters and downspouts, cleaning the area, and preparing the fascia board for new gutter installation.

Gutter Fabrication

The gutters will be fabricated to the specific dimensions of the home to ensure a proper fit. We will also select the gutter material based on the homeowner's preference and the needs of the home.

Installation

The installation process involves attaching the gutters to the fascia board using hangers or brackets. We will ensure that the gutters are level and sloped correctly for optimal drainage. We will also install downspouts to ensure proper drainage away from the home.

Clean-up and Final inspection

Our team of experienced professionals will make sure that your old gutters are removed safely and efficiently. You can be confident knowing that we will not damage property or landscaping.
Gutter FAQs
In many cases, a leaking gutter can be repaired by sealing the leak or replacing a damaged section of the gutter. However, if the gutter is rusted or damaged beyond repair, it may need to be replaced.
Seamless gutters are continuous gutters that are custom-made to fit your home, whereas sectional gutters are pieced together from pre-cut sections. Seamless gutters are less likely to leak and are generally considered more durable.
The timeline for a gutter installation or replacement project varies depending on the size and complexity of the project, but most projects can be completed in one to two days.
Here are 10 signs that gutters may need to be replaced:
Rust: If you notice rust spots on your gutters, it may be a sign that they are corroding and nearing the end of their lifespan.
Cracks or splits: Cracks or splits in your gutters can cause water to leak out and may indicate that your gutters are damaged beyond repair.
Sagging: Sagging gutters can be a sign that they are not properly attached to your home or that they are overloaded with debris and water.
Separation from the fascia board: If your gutters are pulling away from the fascia board, it may be a sign that the fasteners are failing or that the gutters are too heavy for the current brackets.
Peeling paint: If the paint on your gutters is peeling, it may be a sign that water is not flowing properly and is causing damage to the gutters.
Water damage: If you notice water damage on your siding, fascia board, or foundation, it may be a sign that your gutters are not functioning properly and need to be replaced.
Mold or mildew growth: Mold or mildew growth on your gutters or surrounding areas can indicate that water is not flowing properly and may be causing damage to your home.
Flooding in your basement or crawlspace: If water is not being properly directed away from your home, it can cause flooding in your basement or crawlspace.
Overflowing gutters: If your gutters are overflowing or unable to handle heavy rainfall, it may be a sign that they are clogged or damaged and need to be replaced
Kelly Roofing & Repair is an Owens Corning Platinum Contractor
Owens Corning Platinum Preferred Contractors have achieved the highest level of service in the industry and have been selected to be in the Top Tier of the Preferred Program. They are hand-selected based upon the most stringent of qualifications and can offer exclusive perks that are only found at the Platinum level.
Platinum contractors represent less than 1% of all roofing contractors

In business for at least three years

No adverse legal actions, liens, judgments, etc. against the company during the past five years

A clear credit record with no account more than 90 days past due

All required state and local licenses procured and current

General liability insurance is required

Good professional reputation and customer references

No bankruptcies in the past seven years
Real Reviews, Real Results, Real Smiles
Our customers love us because we deliver on our promise of quality products and services. Hear what they have to say about us.
Complete clean up and took away old gutters for disposal.

Scheduled and arrived on time. Work done efficiently and correctly. Complete clean up and took away old gutters for disposal. Nick's contact and work is always professional and he stays on top of his team to ensure quality.

They have exceeded my expectation

It went really well. I will use him again and recommend him. They came out 3-4 times. I am happy with their service. They do what they say and I believe they are very good at what they do. We've used them for gutters and minor roof repairs, and they have exceeded my expectation. They are not cheap, but I think they are fair.

They showed up on time and cleaned up the big messes.

Mark is a great guy to work with! Very reasonable and a nice gentleman overall. His workers came out and worked ALL day for 2 days to have our gutters done in a very efficient manner(right before all the rain came down). They showed up on time and cleaned up the big messes. The leads knew exactly what to do and did not disturb my wife for an important meeting she had at our house that day. I would highly recommend this company and glad we were able to keep the business local to Anderson! Thanks Mark!
Trust the professionals that have been in business for over 35 years!
Experience the Kelly Roofing and Repair Difference
Kelly Roofing and Repair is a family owned business that has been working with satisfied customers for over 35 years. You can trust us to provide you a quality and professional gutter installation.