Leaf Relief Gutter Guards
Keep gutters clear year-round and protect your home from water damage.
The Leaf Relief Gutter Guard is a must for any home surrounded by trees. Because its surface is made of perforated aluminum, debris sits on top of the gutter guard, dries out, and is carried off by the breeze.
Get a Quote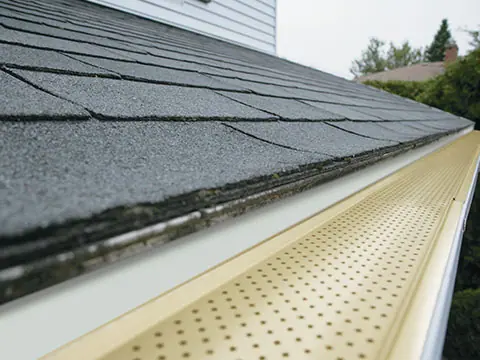 Install gutter guards and protect your home.
Leaf Relief is a great gutter cover option for your gutter system, especially for homes that need to block fine debris. Leaf Relief has smaller openings, which is important if dealing with smaller debris such as pine needles. Recessed, Leaf Relief isn't visible from the ground. This provides protection for your system without aesthetic changes. It also comes with PVC seals and adjustable angles to ensure the perfect fit for your home's rain gutter system.
Get a Quote
Debris Prevention

The design of the gutter guards allows water to flow freely while debris is lifted away from gutters with the help of a normal breeze.

Ice and Snow

Our gutter guards prevent snow from accumulating in gutters. Without Leaf Relief, the weight of the snow can deform your gutters.

High Water Flow

Leaf Relief Gutter Guards can drain up to 29.7 inches of rainwater per hour. Compare that to the highest amount of rainfall ever recorded was approximately 12 inches of water.
Proven effective year after year
Damage Resistant

Mounts securely and stays in place, resisting high winds, snow, and ice. This system can withstand the weight of sticks, twigs, and pests.

Low Maintenance

Go with a product proven to work with over 100 million feet installed over the last decade. With "Leaf Relief", and it's proven Aluma-Perf™ Technology, you'll keep leaves, twigs, and pine needles out of your gutters.

Superior Water Protection

Handles the heaviest rainfalls with ease for superior water protection. Drains more than twice the highest recorded rainfall ever recorded per hour, over 29 inches of rain.

Low Profile

Leaf Relief lays flat on internal structural hangers and fits snugly on top of your gutter, so it's invisible from the ground.
Learn About Gutter Installation
Trust the professionals that have been in business for over 35 years!
Experience the Kelly Roofing and Repair Difference
Kelly Roofing and Repair is a family owned business that has been working with satisfied customers for over 35 years. You can trust us to provide you a quality and professional gutter guard installation.