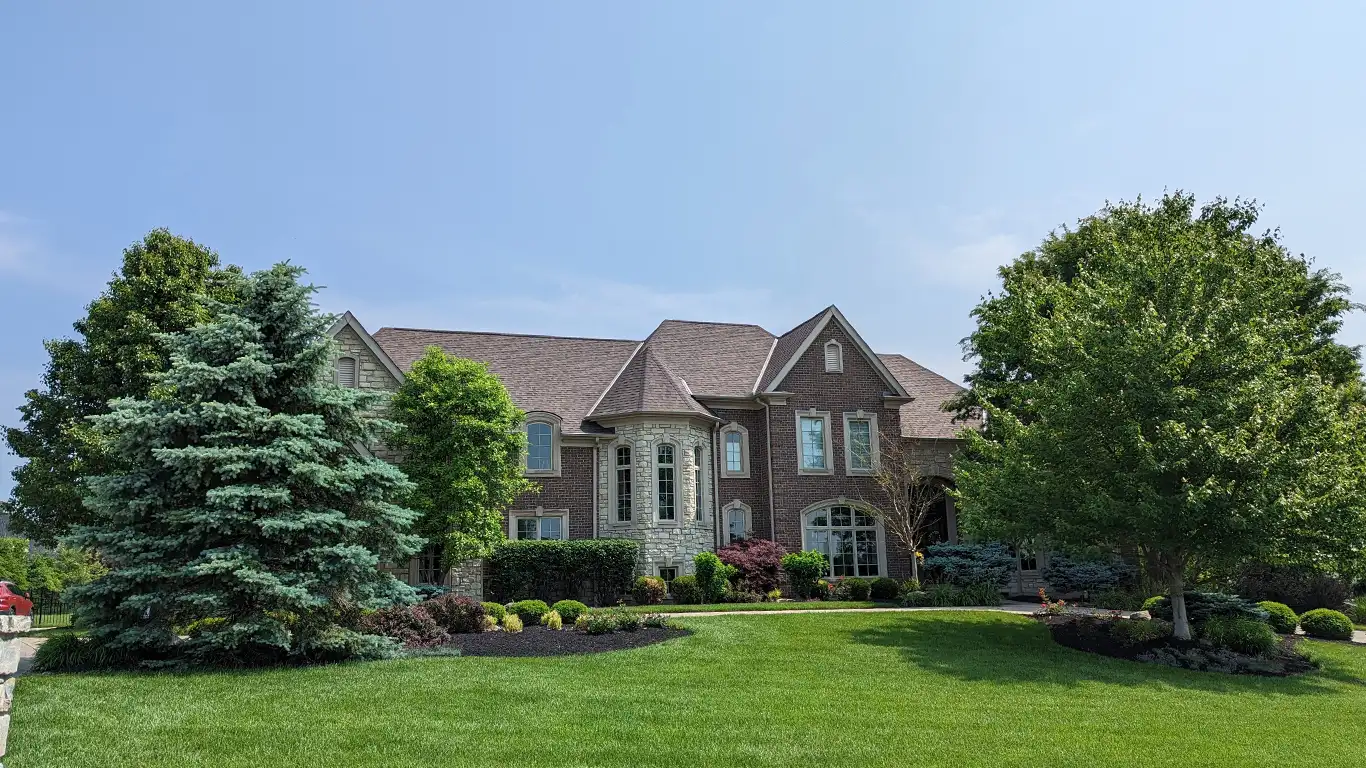 Residential Roof Replacement
Roof replacement isn't just an investment, it's Peace of Mind
When is it time to replace your roof?

When deciding whether to replace or repair your roof, there are several factors to consider:
Age of the roof: If your roof is nearing the end of its lifespan (typically 20-25 years for asphalt shingles), it may be more cost-effective to replace it rather than make repairs.
Curling or buckling shingles: Curling is when the edges of your shingles turn up, while buckling is when there are waves or ridges running vertically on the roof. These issues can be caused by a variety of factors, including age, weather exposure, and poor ventilation.
Granules from shingles in the gutter: The granules are a protective layer on top of the shingles, and their presence in the gutters means that they are being washed away. This can be caused by age, weather exposure, and poor installation. If a significant amount of granules are found in the gutters, it is likely that the roof needs to be replaced.
Cost: Replacing a roof can be a significant expense, so it's important to consider the cost of the repair or replacement in relation to the value of your home.
Future plans: If you plan to sell your home in the near future, a new roof can increase its value and appeal to potential buyers.
Ultimately, the decision to repair or replace your roof should be based on a professional assessment of its condition and a careful consideration of the above factors.
See why working with us is easy and stress free.
Choosing a roofer can be a daunting task
At Kelly Roofing & Repair, we understand that choosing a roofing contractor can be a daunting task. That's why we want to assure you that we are the right choice for your roofing needs. We take pride in providing our customers with high-quality workmanship and exceptional customer service.
35+ Years of Experience

Our years of experience have given us the skills and expertise to handle any roofing project, no matter how complex.

On-time Appointments

We understand that your time is valuable, which is why we always show up on time for appointments.

Quality of Materials

We only use high-quality materials from trusted suppliers to ensure that your roof is durable and long-lasting.

Licensed and Certified

We have the necessary qualifications and certifications to handle any roofing project, ensuring that you receive quality work.

Straightforward Pricing

We understand that pricing can be a significant concern for our customers, which is why we offer straightforward and easy-to-understand pricing.

Best Warranty

We stand behind our workmanship and the materials we use. Our goal is to provide you with peace of mind knowing that your roofing investment is protected.
Comprehensive inspection


First, a qualified and experienced roof professional will do a thorough evaluation and provide you with an explanation of your general roof condition as well as a diagnosis of any specific leaks or problems with the roof.


Then, we'll follow-up with a detailed and easy to read proposal for any work that needs to be done.

Pick your new roof

Once we know what's needed, our experienced team can advise on shingle color options to help you pick the perfect new roof. We will communicate expected timing for the roof installation and provide an easy process for getting your new roof installed.

Remove old roof


When we do a full roof replacement, we tear off the existing shingles, and tarp, cover, move and protect all landscaping, furniture or anything else located around your home.



The roof decking is cleaned and prepared to ensure the new shingles can be installed properly. Any damaged or comprised roof decking will be replaced during the installation process.

Professionally install new roof

Our experienced technicians will professionally install your new roof, ensuring that it's done right the first time.

At Kelly Roofing and Repair, we use high-quality materials from Owens Corning and offer warranties on our services so you can be confident that your investment is protected for years to come.

Clean-up and final inspection

Our team removes all debris and materials, protecting your property and landscaping.

We conduct a final inspection to ensure proper installation and address any issues before leaving your property.

Our goal is to provide a stress-free experience and a high-quality, long-lasting roof.
A roof is more than just shingles
Experience the Kelly Roofing and Repair Difference
We understand that when it comes to roofing and repair services, experience matters! Kelly Roofing and Repair is a Platinum Owens Corning Contractor, so you can trust us to deliver superior craftsmanship on every project.

SEAL

Two part protection barrier against ice and water infiltration to keep moisture away from the roof deck.

Defend

Our three different shingle types work to protect against daily exposure to the elements, and provide great visual ascetics to your home.

Breathe

Create a balanced airflow in the attic with proper ventilation to manage temperature and moisture under the roof.
Learn About The Complete Roofing System
Kelly Roofing & Repair is an Owens Corning Platinum Contractor
Owens Corning Platinum Preferred Contractors have achieved the highest level of service in the industry and have been selected to be in the Top Tier of the Preferred Program. They are hand-selected based upon the most stringent of qualifications and can offer exclusive perks that are only found at the Platinum level.
Platinum contractors represent less than 1% of all roofing contractors

In business for at least three years

No adverse legal actions, liens, judgments, etc. against the company during the past five years

A clear credit record with no account more than 90 days past due

All required state and local licenses procured and current

General liability insurance is required

Good professional reputation and customer references

No bankruptcies in the past seven years
Real Reviews, Real Results, Real Smiles
Our customers love us because we deliver on our promise of quality products and services. Hear what they have to say about us.
I've used them several time to repair shingles blown off in high winds and replace flashing.

Kelly Roofing has been my 'go to' vendor for roofing issues for over 20yrs. Used them to replace the roof on my mother's house. Was great. Brought a huge team and did a tear-off and reroof in 1/2 a day. Cleaned up everything also. I've used them several time to repair shingles blown off in high winds and replace flashing. Always prompt and fixed right the first time. There may be less expensive roofers out there but if you want it fixed right call Kelly Roofing.

Very high-quality roofing contractor!

I have used Kelly twice and also recommended them to family/friends. The responsiveness is always top notch and the work is 2nd to none. Very high-quality roofing contractor!

I've always admired is a service company with clean trucks!

I've had several roofs installed over the years and this experience was the best service I've ever had! Nick and his crew were prompt, courteous and VERY professional. Installation was not rushed, every day ended with a thorough cleanup. One thing I've always admired is a service company with clean trucks! I highly recommend Kelly for your roofing, gutter needs!
Roof Replacement FAQs
Yes, our company is fully licensed and insured to provide roofing services in our service area. You can trust that our team has the expertise and experience necessary to provide quality workmanship and that you are protected in case of any accidents or damages.
There are three important factors to consider when determining if you need a new roof: the age of your roof, its appearance, and whether or not there are leaks.
Most shingle roofs last approximately 12-20 years, and can begin to show signs of wear and tear once they surpass their lifespan. You may begin to notice things such as buckling, bare spots, or cracked shingles.
Regular inspections can help you monitor the appearance of your roof. Our experts will photograph what you cannot see from the ground, such as physical damage, broken shingles, or granule surfacing loss.
If you notice wet spots, mold, peeling paint, or sagging in your attic during or after a storm, you may have a leak.
The lifespan of an asphalt shingle roof can vary based on several factors such as the quality of the materials used, proper installation, the climate and weather conditions in the area, and the level of maintenance and upkeep.
On average, a properly installed and maintained asphalt shingle roof can last anywhere from 20 to 25 years. However, some high-quality shingle roofs can last up to 30 years or more, while others may only last 15 years or less.
It is important to keep in mind that the lifespan of a roof can also be reduced by extreme weather events, improper installation, or a lack of proper maintenance. Regular inspections, prompt repairs, and preventative maintenance can help extend the life of your roof and ensure that it provides adequate protection to your home.
Yes. We offer up to a 50-year limited warranty on our labor and materials and all warranty options are one-time transferrable!
Kelly Roofing and Repair is proud to serve the eastern side of Cincinnati.
Get Peace of Mind
Secure Your Home with Quality Roofing
Kelly Roofing and Repair is a family owned business that has been working with satisfied customers for over 35 years. You can trust us to provide you with a quality and professional roof replacement service.